We have gotten more time again
More good news we still have the devil at bay. Louisiana Democracy Project contacted the La. Department of Environmental Quality today concerning the status of ExxonMobils Air permit request. They are now reviewing the public comment portion of the permit and say they will need an additional 2 to 4 weeks to reach a decision. So our s Pray for Our Air Program continues!!!. This program was born December 17, 2001after two LDP members attended a public hearing sponsored by DEQ in which ExxonMobil requested an air permit which would allow it to emit an additional 649 tons of pollution into the air in the production of its new Tier2 low sulfur gas.
Notification of the public hearing had been sent out during the Christmas holidays, the 6:00 pm hearing had a 4:30 close on written comment deadline. There were only 5 citizens present at the January 17th proceedings the rest of the room was full of industry people. Those citizens present requested an extension for public comment. The following day which was a Friday we were told we could have until the following Friday which was January 25th for written public comment. The 5 citizens present were active members of Louisiana Democracy Project, Inc., North Baton Rouge Environmental Association, AWARE, LEAN and Young Important People (mentored by LDP).
The Tulane Environmental Law Clinic explained that they could find no legal grounds to oppose the permit but they did provided us with a list of the chemicals to be emitted, 30.83 tons of Particulate Matter, 85.55 tons of Sulfur Dioxide, 279.36 tons of Carbon Monoxide, 85 tons of Volatile Organic Compounds- a precursor to ozone, 169.17 tones of Nitrogen Oxide. LEAN (La. Environmental Action Network ), said they could find no technical grounds to oppose the permit however they shared information on East Baton Rouge Parish, second in the state for toxic air emissions part of a five parish area which is a serious ozone non-attainment area.
Assessing the magnitude of the problem and the limited time, Louisiana Democracy Project, Inc. sent out a fax to everyone in its data base calling for prayer over the situation. Next we produced a form requesting public comments and we went to the streets with help from the other organizations we collected 590 comments. WBRZ Channel 9 news interviewed president Stephanie Anthony and ran the fax number for the La. Department of Environmental Quality the day before deadline. Former Congressmen and current State Senator Cleo Fields saw the broadcast put in an angry call to LaDEQ demanding more time since his constituents did not have fax machines and deserved to be heard.
Many interesting, previously unknown facts came out in that town hall meeting including the fact that the air monitor on Southern Universitys campus which is located within 2 miles of ExxonMobil went off 50 times last year. Which means the air in that area exceeded the threshold set by the Louisiana Department of Environmental Quality for pollution at least 50 times. We later collected an additional 522 written comments. We discovered that the community at large was unaware of the current environmental situation or what was looming in the future.
Nine other refineries in Louisiana are expected to apply for the same permit as ExxonMobil, La. Democracy Project has called for a moratorium on air permits. We believe that no air permits should be given out until Baton Rouge is in compliance with the federal Clean Air Act.
Your donations would be appreciated as we continue to get the word out in this densely populated area. Please make checks payable to Louisiana Democracy Project, Inc. and forward to 4070 Fairwoods Drive. Baton Rouge, La. 70805
The Louisiana Democracy Project is a

grassroots based organization founded in 1998 to ensure the recognition of the fundamental rights of political, economic, and environmental self-determination for disenfranchised Louisiana citizens.
Citizens present at the hearing requested more time to let the general public have some input on the action before the permit was granted. Long time environmental activist Juanita Stewart, president of the North Baton Rouge Environmental Association questioned the timing of the announcement of the hearing. I learned about the hearing during the Christmas Holidays, exclaimed the Alsen resident.
Sixteen year old Faith Ashton testified at the hearing and was surprised at The Advocate newspaper headline, Critics raise stink over efforts by Exxon to make cleaner gas. We can hardly breath now. We have more kids with cancer than we should. Exxon is raising the stink every day. They need to be honest about how much more they want to put in the air and what it can do to our health, she said. Faith Ashton is the president of Young Important People, a service organization that works on environmental justice issues.
Ready.gov - From The
U.S.
Department of Homeland Security
---
CLEAN AIR
Many potential terrorist attacks could send tiny microscopic "junk" into the air. For example, an explosion may release very fine debris that can cause lung damage. A biological attack may release germs that can make you sick if inhaled or absorbed through open cuts. Many of these agents can only hurt you if they get into your body, so think about creating a barrier between yourself and any contamination.
Face masks or dense-weave cotton material, that snugly covers your nose and mouth and is specifically fit for each member of the family. Do whatever you can to make the best fit possible for children.

Be prepared to improvise with what you have on hand to protect your nose, mouth, eyes and cuts in your skin. Anything that fits snugly over your nose and mouth, including any dense-weave cotton material, can help filter contaminants in an emergency. It is very important that most of the air you breathe comes through the mask or cloth, not around it. Do whatever you can to make the best fit possible for children. There are also a variety of face masks readily available in hardware stores that are rated based on how small a particle they can filter in an industrial setting.

Given the different types of attacks that could occur, there is not one solution for masking. For instance, simple cloth face masks can filter some of the airborne "junk" or germs you might breathe into your body, but will probably not protect you from chemical gases. Still, something over your nose and mouth in an emergency is better than nothing. Limiting how much "junk" gets into your body may impact whether or not you get sick or develop disease.
Heavyweight plastic garbage bags

or

plastic sheeting

Duct tape

Scissors
There are circumstances when staying put and creating a barrier between yourself and potentially contaminated air outside, a process known as "shelter-in-place," is a matter of survival. You can use these things to tape up windows, doors and air vents if you need to seal off a room from outside contamination. Consider precutting and labeling these materials. Anything you can do in advance will save time when it counts.

Use available information to assess the situation. If you see large amounts of debris in the air, or if local authorities say the air is badly contaminated, you can use these things to tape up windows, doors and air vents if you need to seal off a room. Read more: Deciding to Stay or Go.
HEPA (High Efficiency Particulate Air Filtration) Filter Fans
Once you have sealed a room with plastic sheeting and duct tape you may have created a better barrier between you and any contaminants that may be outside. However, no seal is perfect and some leakage is likely. In addition to which, you may find yourself in a space that is already contaminated to some degree.

Consider a portable air purifier, with a HEPA filter, to help remove contaminants from the room where you are sheltering. These highly efficient filters have small sieves that can capture very tiny particles, including some biological agents. Once trapped within a HEPA filter contaminants cannot get into your body and make you sick. While these filters are excellent at filtering dander, dust, molds, smoke, biological agents and other contaminants, they will not stop chemical gases.

Some people, particularly those with severe allergies and asthma, use HEPA filters in masks, portable air purifiers as well as in larger home or industrial models to continuously filter the air.


Behold Baton Rouge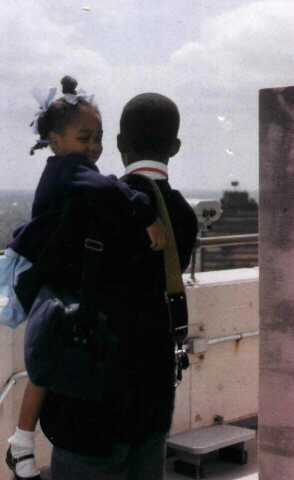 LaDemocracy E-Zine (Online Magazine)
Social Justice Advocate, Stephanie Anthony, " I was so upset and outdone that they would even consider giving another permit to put out more pollution. I realized that my little organization did not have the resources to begin to fight the largest pertochemical company in the world so I went into prayer. I sent out a mass fax asking everyone to go into prayer over this situation. I received a call saying we had until January 25th to turn in all written comments. We went to work getting out forms and explaining to people what was at stake, one person at a time we collected 590 written comments. I was at another hearing for another environmental problem when Ms. Sanford of channel 9 news interviewed me on the situation. That interview got the attention of Senator Cleo Fields who requested even more time for public comment. LaDEQ has now given us until February 8th.
We will need thousands of written comments to let LaDEQ know beyond a shadow of a doubt that we do not want ExxonMobil to belch out an additional 649 tons of air pollution a year. Thats more than a ton a day", she said.
I want to ask everyone to pray for our air, daily. We struggle not against flesh and blood but against principalities, she added.
If your organization would like to have an informational meeting to inform your community on this important matter and collect written public comments please contact Stephanie Anthony at 357-7425 or Rev. Sharon Adams 346-5138.